Dear ones in Christ,
Greetings in Christ our Lord Redeemer and King's name. Our Scripture Theme for 2021 is to affirm daily in our lives and in the ministry." For I know the thoughts that I think towards you; saith the LORD, thoughts of peace and not of evil, to give you an expected end" Jer. 29:11.
Rescue the Children Project: We were faced with the challenge of assistance to the Trained Youth workers in August but the Lord worked through your prayers and giving to provide for that need. To God be the glory.
Radio & Northern Ghana Ministry: The radio ministry continues to face challenges from the National Communication Authority, we do not know if they have an agenda. The Lord provided the fund and we bought the Cavity filter, our Engineers got it installed, so we invited the NCA Inspectors for inspection only for them to tell us that the Cavity Filter we installed is not what they are looking for. and that it should be three phases not the single phase we had. The three-phase cost 1850 Euros from Italy. Or $1714. The one phase was $1350. After a series of problems getting the payment to Italy, Bro. Ralph was able to wire it to the Company. We received it on the 10th of October via DHL. But they also said they cannot deliver it to us unless we pay a Custom duty of $400. We have managed to get them the $400 but it has had a major impact on our already low funds. We are planning to take the equipment to the Radio Station on the 25th of the month when we go to visit the brethren in Northern Ghana. Pray with us that the Lord will provide the funds for the trip. Fuel price is getting out of our reach but our God is able to provide YAHWEH YIREH! We intend to roof one of the new churches and baptize a number of new believers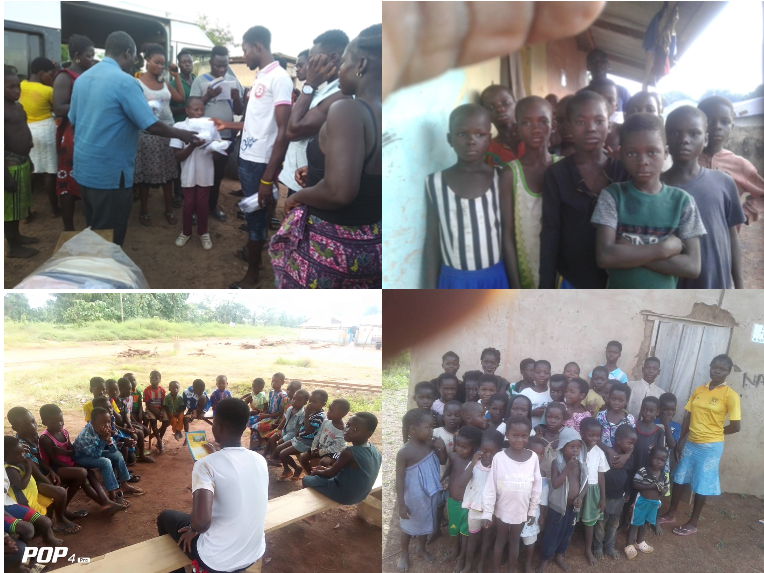 STUDIES ON THE NAMES OF GOD: From the Month of August, I started with a series of studies on the NAMES OF God. Namely; Yahweh, Elohim, Yahweh Yireh, El-Elyon, El-Shaddai. On October 24th was to be Yahweh Raah- The LORD MY SHEPHERD. Prior to that day, I have been using Biblical examples to explain the Names. On Tuesday, October 19th, I found out that the Lord had a different plan for my illustrations. He planned to use me. At about 9:30 in the morning, my son and his wife came for their normal visit with our grandson. Jonathan aka 7's, is now walking. He usually plays in our living room. At about 10:00 am as he continued to play I notice he tripped and his head was going towards a solid wood room divider so I rushed to grab him and, in the process, I hit my head in a very heavy fall against the SOLID WOOD Room divider. I saw blood coming out but did not know where it was coming from, I could not get up so Adelaide called Enoch who was nearby. To lift me so he can take Yoatham who was crying. Enoch and Adelaide put some ice on my head and after a few minutes Enoch helped me get on my feet; I took some first aid and Enoch and Adelaide took me to our doctor. We found out that blood was coming from my nose and my BP was over 170, so the Doctor gave me medication for my BP, and demanded a CT Scan to help determine the source of the blood. By that time the blood had stopped. The Doctor's note was for an "emergency" but we spent over one full hour before they put me into the Imaging Machine. During the one-hour wait, I was praying to the LORD Yahweh Raah and Yahweh Rhophe to heal me. When we send the report to our Family Doctor he told me that there is no surface or parenchyma hemorrhage; Brain volume and density were normal with no evidence of brain swelling. The Lab comment was: Bilateral nasal bone fractures, no other fractures, and no evidence of significant intracranial injury. So, he referred me to an ultramodern American Utopiadic center. There the Doctor consulted with another specialist and she said she is not sure if surgery will be needed so she referred me to the Ghana Military Hospital one of the best in Africa. I told my family there will be no surgery, but we went to the Military Hospital the following day. The only problem I was having was severe neck pain. So I started using my Moringa cream which helped very well. The Specialist after examining me told me there is no cause for worry since the bleeding had stopped so he gave me a painkiller and told me to come back if I noticed any sign of bleeding. And so, we returned home praising the LORD our Shepherd. Who leads us in the valley of the shadow of death, we will fear no evil. A dear pastoral brother sent me a scripture verse that says "But he knows the way I take: when He hath tried me, I shall come forth as gold" What a mighty God we serve!!! The above event was my teaching illustration about our God as the Good Shepherd. And that is how practical Christianity is. Yahweh Raah. Yahweh Sabaoth.
Finally: continue to pray and donate whatever the LORD lays on your heart to assist with the Lord's ministry here. We need more help for the Churches up north. Praise the Lord for Sis Jan from Front Royal Baptist Church for working on the Mission and School website. Now we can run the school online. While we work on the building. The site is: www.gracebaptistmissionghana.com The school is under OTHER Ministries at the site just click and it will open. There will be more updates coming shortly. Keep on praying. As the father of Modern Mission said; "Expect Great Things from God, Attempt Great Things For God" By William Carey.
May the Lord protect and provide for all of you in these trying days.
In His Grace for His Glory,
Noah Quarshie & Family.
Ps. See pictures attached from Work in Northern Ghana